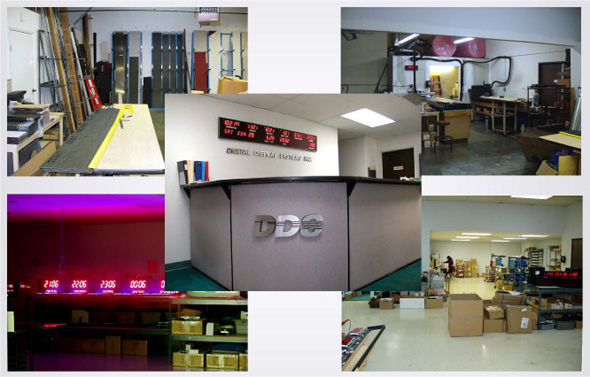 Digital Display Systems comes to you with over 40 years of experience in the design and manufacture of LED time equipment and LED displays. Offering personalized technical support and years of experience, and the knowledge to approach any unique custom design and service needs you may have. There are many companies offering LED digital clocks and timezone clocks, but DDS is the originator and leading innovator in the industry. The founder of DDS designed and built the first electronic large LED synchronized timezone clocks for the Pentagon in 1977. We are a Veteran owned and operated small business with years of experience working with government and military operations. We have also designed products to meet the needs of private industries, airports, hospitals, schools, and religious organizations. We have the knowledge and ordering options to make sure you get exactly what you need without the extras you don't need.
All of our digital clocks are manufactured in our 6,000 square-foot facility at 780 Montague Expy, Suite 502, San Jose, CA 95131-1319 location. We do not out-source our work or tech support. When you call us you will not get voice mail during business hours (M-F, 8:00am to 4:30pm Pacific, Toll Free at 888-310-1150). You will speak directly with a person for questions and ordering, and to an experienced technician for tech support. Since DDS manufactures all of its own clocks, we are one of the best in the industry in pricing and delivery. We have the best warranty in the business (2 years parts and labor).
DDS has pioneered the use of LEDs in time equipment, from the Nixie Tubes of the 1950s to the LEDs of the present and future. We specialize in digital clocks, timezone clocks, timers, and production counters, and we customize other electronic displays as well. We concentrate on what we do best: designing and manufacturing reliable products that meet our customers' needs. We provide personalized service to all of our customers.
Our goal is to make all of our products automated and user-friendly so customers can install them by themselves. Our digital clocks and timezone clocks have user-friendly controls so our customers can set the displays. Our displays switch easily between 12 hour and 24 hour formats and support all time zones with an automatic international daylight savings/standard time correction. Our digital clocks are controlled by a temperature-controlled crystal (TCXO) which can be trimmed to within a one second per year accuracy. Our digital clocks even adjust to time zones for countries which operate at 15, 30, or 45 minutes past the hour (eg. India, Afghanistan, etc.) Most of our products include the option of multiple colors at no extra cost, unlike other suppliers. Our LED color choices are red, yellow, green, and blue. All of the LEDs we use are high in brightness for maximum visibility (500+ feet for our largest digital clocks).