Many manufacturing companies use LED Production Counters to keep an accurate count of material or products and provide a visible display to both employers and employees. With this in mind, DDS Production Counters are the perfect and affordable solution for small companies looking for a simple number counter or larger companies looking for a more sophisticated data-tracking system. Additionally, you can add a static Goal or changeable TAKT Timer to the production counter to see the efficiency of your production line compared to your goals.
Single Production Counters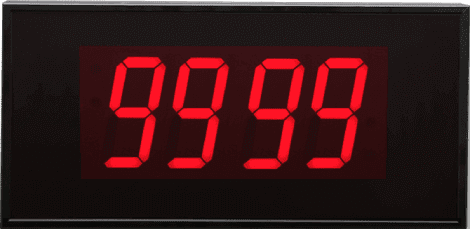 Single production counters are easy to read and easy to operate. Count up or down by one digit using our durable ABS plastic switch box or wall-mountable stainless steel switch plate. Keep an accurate total count of products manufactured by machine or people in a production line, and allow people to see those numbers on a bright LED display. In addition, if there is a high volume output, inquire about our infrared sensor option to automate the process.
These counters can also be used in bakeries, hospitals, doctor offices, and other reception areas that requires a "Take A Number" ticket system to maintain customer service flow.
BPC-49940 Features – $338
Goal/Actual Production Counters
Our Goal/Actual Production Counters work similarly to the single production counter but with an additional LED display to show the Goal count. While a simple counter shows how much a manufacturer is producing, an additional goal display shows how the manufacturers are doing in relation to a target. Show a static Goal number or an increasing Goal with TAKT/Pace Timer. 
BPC-49940-2 Features – $675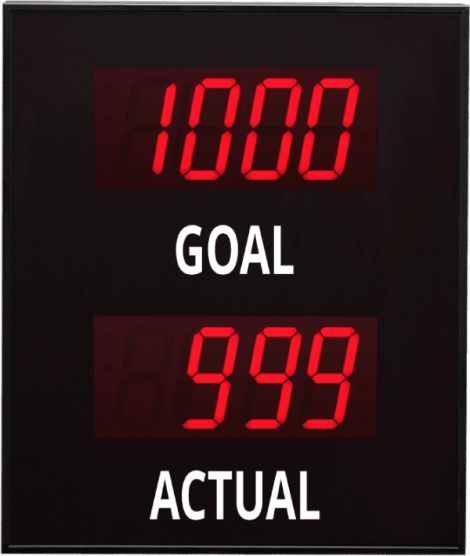 Takt Time Production Counters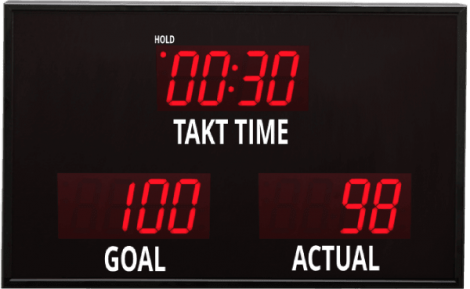 A TAKT time production counter combines the function of a timer and production counter with three displays:
Actual – Actual count of products controlled by manual switch box, manual wireless remote, or automatic IR sensor.
TAKT Timer – Count down timer to set production pace
Goal – Goal count goes up by one when TAKT timer reaches zero
With this three-in-one product, keep track of production or inventory count, monitor the time between production, and compare them to the company's targeted goals. Use the Takt Timer to establish a "rhythm" and set a pace. When production is unable to match this pace, management can easily identify the source of the bottleneck. In other words, look to purchase a TAKT time production counter if you are looking for a real-time feedback system and aiming for lean manufacturing.
BPC-49940-3 Features – $1012