Digital Display's line of LED timer clocks gives you the option to switch between a real time clock, a count up elapsed timer, or a count down timer all in one display. Because the three displays are easy to switch between, they are versatile and applicable for many settings including sporting events (indoor and outdoor), races, schools, churches, hospitals, and manufacturing facilities. Our timers can be mounted on the wall and easy to install with brackets included. With super-bright LEDs and non-glare lens, they can be easily viewed from 50 feet to 225 feet, depending on the size and color. The standard Count Up and Count Down LED timer can be set for a maximum of 99 hours, 59 minutes, and 59 seconds, but DDS can also make timers that show only hours and minutes or minutes and seconds. On the other end, we also make long-term 9-digit LED timers with a maximum of 999 days. 
When precise stopwatch timekeeping is crucial, the two-button switch box or stainless steel wall plate allows the user to run or the pause the timer quickly and easily. Reset the timer quickly by holding down both buttons. The count down timer also saves the last saved start time for a quick start or restart, even if it's unplugged! If you're on the go, consider a hassle-free wireless infrared remote.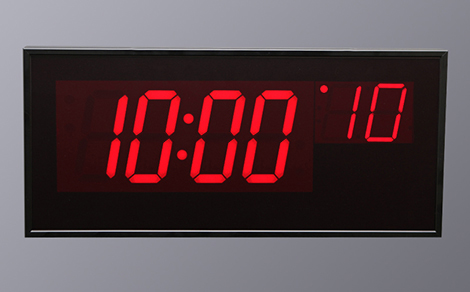 Our standard event timer clock is an all-purpose count up, count down, and real time clock to help you keep track of time and increase productivity. For example, schools use them for debate timers, presentation timers, chess timers, and after school sports. Additionally, manufacturers can use industrial process timers to monitor production pace, down time, etc and analysze possible bottlenecks in productivity. (See also: TAKT Timers and Production Counters)
Our largest timer clock model is highly visible from up to 500 feet and is ideal for sporting and outdoor events such as races, track and field, and military training. Although the clock requires to be plugged in to a power supply, inquire about a tripod and backup power supply to provide some portability.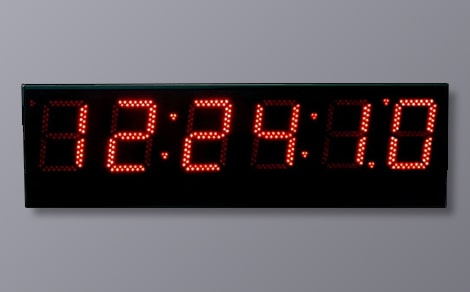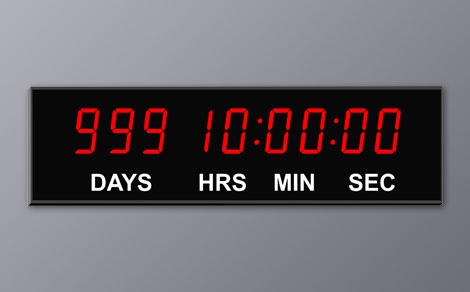 9-Digit 999 Days Event Timer
The 9-digit timer can count up or count down from a maximum of 999 days, 23 hours, 59 minutes, and 59 seconds. Set a visual reminder and count down to any holiday, anniversary, or special event.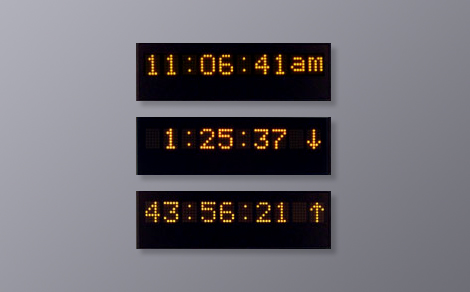 10 Character Dot LED Timer
LED timer clocks will come with one standard control: switch box, wall plate, or wireless remote. When ordering, please be sure to specify one of the three options. Otherwise, the LED timer will operate by switchbox by default. An additional control can be added for an additional cost.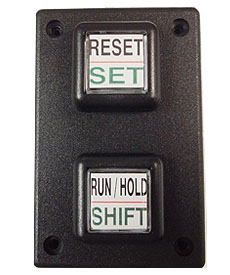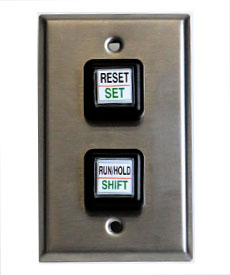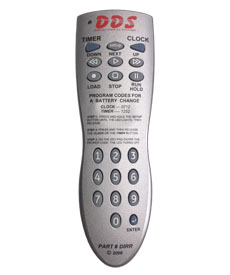 Additional Timer Accessories