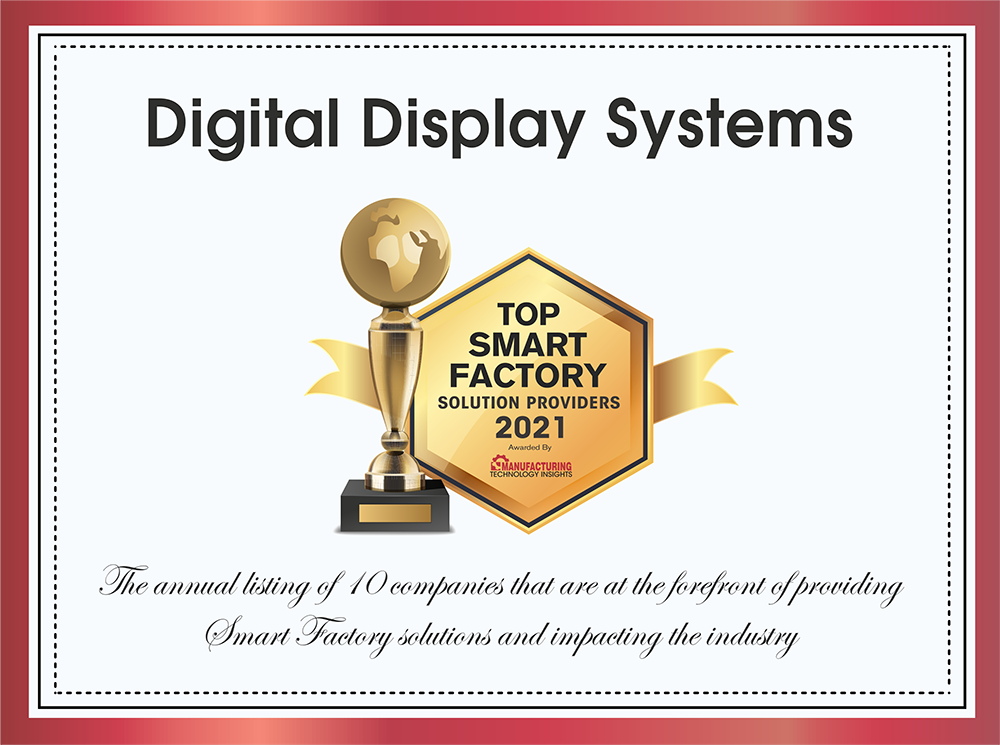 Digitization of manufacturing lines is gradually becoming a mainstream phenomenon. What is not yet commonplace is the digitization of data collection and operations, which makes real-time visualization and collaboration impossible. Moreover, most systems conferring real- time visibility come with expensive implementation, and manufacturers struggle to find a system that can complement existing equipment without needing to replace them. In the absence of comprehensive real-time machine-specific visibility into shop floor operations, management teams are unable to detect the root causes of production delays and inefficiencies and communicate the same with production personnel. All these add to the difficulties of analyzing production trends, identifying bottlenecks, and improving operations for manufacturers.
Addressing the real-time visibility needs of manufacturers is Digital Display Systems (DDS). With over 40 years of expertise, DDS bridges the collaboration gap between management and production teams and enhances production efficiency with its range of digital displays and network clock systems. The Digital Display Smart Efficiency System (DDSES), DDS' IoT manufacturing improvement system, integrates with manufacturers' equipment, manufacturing line, and production stations to provide real-time visibility across shop floors. "We help manufacturers easily and quickly collect data, measure throughput, downtime, machine state, and overall equipment effectiveness with a wide range of sensors," says Ilan Sasson, president of Digital Display Systems.
The "Excel" for Operational Excellence
With a 15-minute implementation time, DDSES can integrate with ERP systems of manufacturers to offer real-time visibility. Deployable either as a stand-alone or as part of a modular system, DDSES bestows organizations with the ability to view operations, processes, and equipment status remotely, display production information to their employees locally and download data for performance analysis. In continuous development for two and a half years, DDSES acts as the "Excel" to increase manufacturers' operational efficiency.
DDSES leverages a programmable proprietary engine that allows the creation of sophisticated custom solutions without requiring prior coding knowledge. It automates data collection and generates alerts to inform production personnel of machine status and productivity with audiovisual cues. DDSES also hosts network clocked systems that allow corporations to view multiple time zones, and smaller organizations and manufacturers to install quality synchronized clocks minus the high price tag. The system also enables company management to communicate production issues to production staff via messages over large digital displays.
We help manufacturers collect data, measure throughput, downtime, machine state, and OEE with a wide range of sensors.
DDS' impressive product line consists of local and global digital clocks that sync all employees to existing time, display clock systems, smart bells, and specialty TAKT timers. Not requiring any external software or hardware support, DDS' products comprise sensors and audiovisual feedback components like digital displays, Andon lights, and buzzers with quick implementation. DDS is equally fast in designing tailored solutions for its clients and is flexible enough to offer clients an option to test out its products before bulk implementation following positive results, promising ROI within weeks.
Enhancing Production Efficiency
Starting out as a maker of mostly time clocks and production counters, DDS transformed into a creator of affordable data collection products, thanks to Sasson's dedication to helping small-sized companies gain production efficiency. With over three decades of experience in operations technology management in multiple industries, Sasson was instrumental in designing low-cost solutions pertaining to sophisticated scheduling systems and production distribution systems with fast and easy implementation for DDS. Aiding Sasson in his endeavors is Jacqueline Duong, who played the defining role in the development of DDS' corporate website and client training and processes for DDSES.
Having a clientele ranging from large corporations to small mom-and-pop shops, DDS has a solution for everyone. Large manufacturers can utilize DDSES to augment their existing data collection systems like MIS or ERP systems, while smaller ones can implement DDSES right off the shelf as a stand-alone production monitoring system. For clients seeking ready-made solutions, DDS offers preset products, and for those using old processes and equipment, DDS holds consulting sessions to review and solve their production challenges. DDS can also perform upgrades for clients requesting added features. In each case, DDS engages in detailed discussions with the clients to deeply understand their unique needs and deliver results accordingly.
To shed light on DDS' bespoke solutions, Sasson recounts DDS helping one of their early customers to gain minute-by- minute visibility into the manufacturing lines and production processes with two of their products. This facilitated collaboration between the management and production teams and enabled quick response and resolution of issues, leading to a productivity boost by 7.5 percent and 25 percent reduction in downtime. Impressed by these results, the client ordered several more DDS devices in their manufacturing facilities, seeking to detect and remedy the causes of downtime and improve their downtime record. In the same vein, DDS helped a large auto manufacturer improve their efficiency levels by providing real-time visibility into their entire production data to their operators. Additionally, DDS deployed Andon lights that come with color-coded lights mapped to each stage in the manufacturing process and buzzers in case of production delays, thereby helping expedite the production process.
Going forward, DDS intends to expand significantly to reach out to a wider clientele. On the product front, DDS is adding numerous sensors to create a complete line of monitoring devices for multiple applications like collecting and analyzing diverse data sets and creating alerts for water or gas leakages, which will strengthen DDS' data logging and measurement capabilities. "By adding various types of sensors, we will be able to expand into many other industries," Sasson concludes.