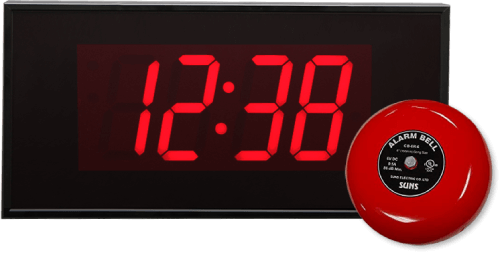 Use the bell system as a mass-communication tool to signal beginning of day, breaks, lunch, and end of day
Or use it as a warning alarm system for safety and emergencies
Choice of wired, wireless, or Ethernet/NTP synchronization
Works with synchronized DDS network clocks
Ability to turn clocks into timers during breaks and keep track of the remaining time.
Only the master unit needs to be connected to a USB or Ethernet when making changes.
Up to 100 programmable events
Clock Bell Systems for Schools
Every school – from the smallest K-12 school to the largest sprawling university campus – needs an accurate and visible time source to run efficiently. Digital Display System's wireless and GPS synchronized clock systems provide the perfect solution and are virtually maintenance-free. Every clock is accurate to the millisecond and updates automatically for daylight savings time changes, saving the time and hassle of adjusting each clock and allowing faculty staff to focus on more important projects and to increase productivity. On the rare occasion an adjustment or correction needs to be made, it is as simple as making the change on one master clock and allowing the rest of the clocks in the system to synchronize.
An accurate and maintenance-free wireless clock system allows teachers to manage and plan their day precisely to increase learning time and productivity for their students. 
All Digital Display Systems clocks use the highest quality super bright LED displays, making it easy for students to see and keep track of the time even from the back of the classroom. With a synchronized network that ensures each clock in every classroom and meeting room are kept at the same time, students can leave and arrive for class on time without the fear of tardiness due to a difference in time in two classrooms. By being aware of the correct time at all times, students will be able to be to learn time management and planning skills on their own, skills that can be applied at home and in the students' future.