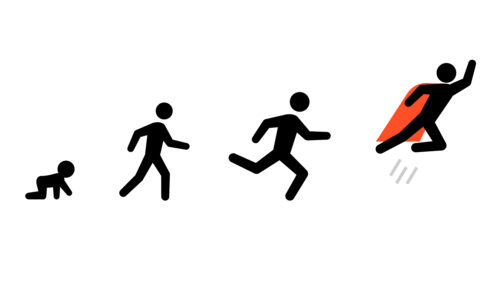 You have probably heard the phrase crawl walk run.
The "crawl, walk, run" approach is a phased implementation strategy for introducing new technology or processes in manufacturing. It refers to the gradual progression from a basic, limited implementation to a more comprehensive and sophisticated one.
Here's how it works in the context of manufacturing monitoring systems:
Crawl: In the first phase, the focus is on getting the monitoring system up and running with the most critical metrics. This could involve installing sensors or other monitoring devices, setting up data collection and storage, and creating basic reports and dashboards to visualize the data.
Walk: In the second phase, the focus is on expanding the monitoring system to cover more areas of the production process and collect more data. This could involve adding more sensors, integrating existing systems with new ones, and developing more advanced reports and analytics to gain deeper insights into the data.
Run: In the final phase, the monitoring system is fully integrated and optimized for the entire production process. The focus is on continuous improvement and refinement, leveraging the data to drive efficiency and quality improvements.
By following the "crawl, walk, run" approach, you can gradually introduce the monitoring system and build a comprehensive solution that provides real-time visibility and insights into the production process. This helps to minimize disruption, reduce risk, and ensure that the monitoring system is delivering real value to the business.
How Can You Use DDSES's Manufacturing Monitoring System to Do Just That?
As an example, assume you have a production line that includes the following stations:
Nickel Coating booth
Frame area
Assembly area
Let's say you have multiple stations from each category, and you are looking to get visibility into each one of these areas to improve manufacturing flow, reduce work in process, and increase employee involvement in your continuous improvement effort.
From employee feedback, you conclude that the nickel coating booth is your bottleneck since you see that you get quality issues. As a result, you sometimes need to send the product back since you do not have enough coating material. Below is an example of how sensors could catch this bottleneck and how you could implement the "crawl, walk, run" approach to fix your production issue. 
Crawl:
Using
digital display systems' technology, you learn about a single device that can add sensors to your coating booth to measure the amount of coating you use, and a scanner or RFID system that can allow automated input to the production monitoring and control system. This lets the operator know the amount of coating they need to do to get the thickness required. To get the necessary data, you want to track the coating material, batch number, operator name, and job takt time.
Your process has different coating times per product type. As an example, a typical product will need to go into the coating bath 5 times, and for varying periods:
A. 15 seconds, for the initial process
B- 3 times for 1 minute each
C- 1 time for 30 sec. (Coating recipe)
DDS helps you create a list of all your product types with the recipe variables as well as the engineering time per coating cycle.
This information will be carried using RFID in the coating basket and will be sent to the system, thus allowing you to either automate the process or instruct the operator to perform the recipe as needed.
In addition, you can set up email alerts, with downtime greater than XX (customizable) minutes, and implement encouraging buzzers to help operators input downtime reasons.
After a brainstorming session,
the chosen system below will provide the target, visibility, sharing, and collaboration on the key metrics and alerts for downtime and quality.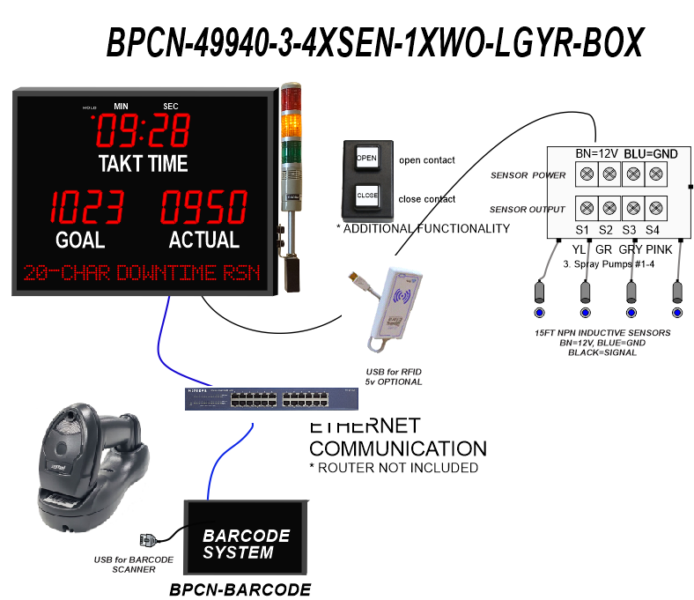 OPERATING MODE ——– 1 SENSORS COUNTER, 1 X STROKE COUNT, 1 X IN BOOTH POSITION,
1 X EXIT POSITION, 1 X ENTRY SENSOR AND 1 X EXIT SENSOR2 OUTPUT RELAY FOR DOOR
OPEN AND CLOSE INDICATORS. USB RFID WITH TAG FUNCTIONALITY TO UPDATE GOAL ACTUAL PLUS
MOLD ATTRIBUTES. WIRELESS BAR-CODE SCANNER IN SECONDARY UNIT TO PROVIDE BATCH,
EMPLOYEE, DOWN TIME, AND QUALITY REASON. ETHERNET CONNECTIVITY IS A MUST
OPTIONAL: HISTORICAL DATA EXPORT, LIVE VIEW, AND SHIFT/BREAK SCHEDULE SETUP
3 MONTHS LATER:
You can generate reports, identify which products had accurate coating targets, and takt time targets. You are correcting the coating times. You are seeing which employees have better productivity than others and provide training to align your team and reduce variability between operators.
Armed with these learnings you start to improve the other paint stations, but now you want to give them the same capabilities and tracking information.
– It is time to add more monitoring and data collection devices.
Walk:
6 months later your Nickel coating booth operations have improved, and you see a need to add monitoring devices to your frame areas. This area is fast-paced, and you don't have much variation between products, so you want to measure the run rate in addition to takt time, to keep employees on their toes.
DDS is recommending a system with a control panel to track downtime and rejects since it is a "dirty area". As a result, you settle on the following system: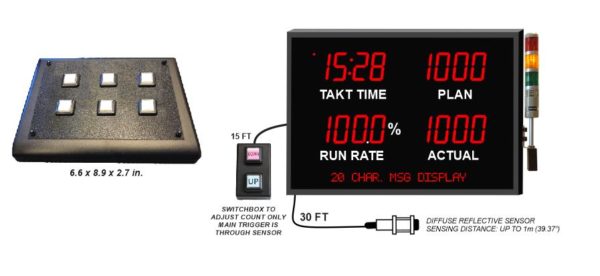 RUN:
After you have covered the two lines feeding the assembly area, you would like to know the stats in your assembly. You have also seen a good improvement in your operations, performance throughput, and now it's time to put it all together.
After a discussion with the DDS team, you come up with the following device and implementation: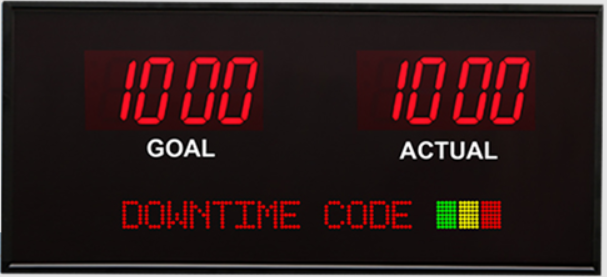 Connect the devices from coating, frame, and assembly, and track the WIP of frames and coated parts. This allows the devices to communicate with each other.
Track the output of a complete assembly, and with every time a part is pulled reduce the electronic queue between the station
Connect the devices to an SQL server or any server that can use HTTP requests to pull data.

With 20 devices it is hard to collect all the data, and you would like to import the data every hour to your main SQL server.
Since the DDS device comes prebuilt with API and is able to create a communication link between devices this process is achieved very quickly with minimal effort.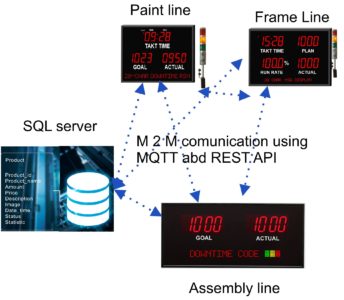 Now you know just need to start CRAWLING and get to the RUN stage with DDSES manufacturing monitoring system. Call us today for a free consultation.